Author:
Kristofer Brozio
Today for review I have a bluetooth headset from Motorola called the H17txt, odd name yes, but it's much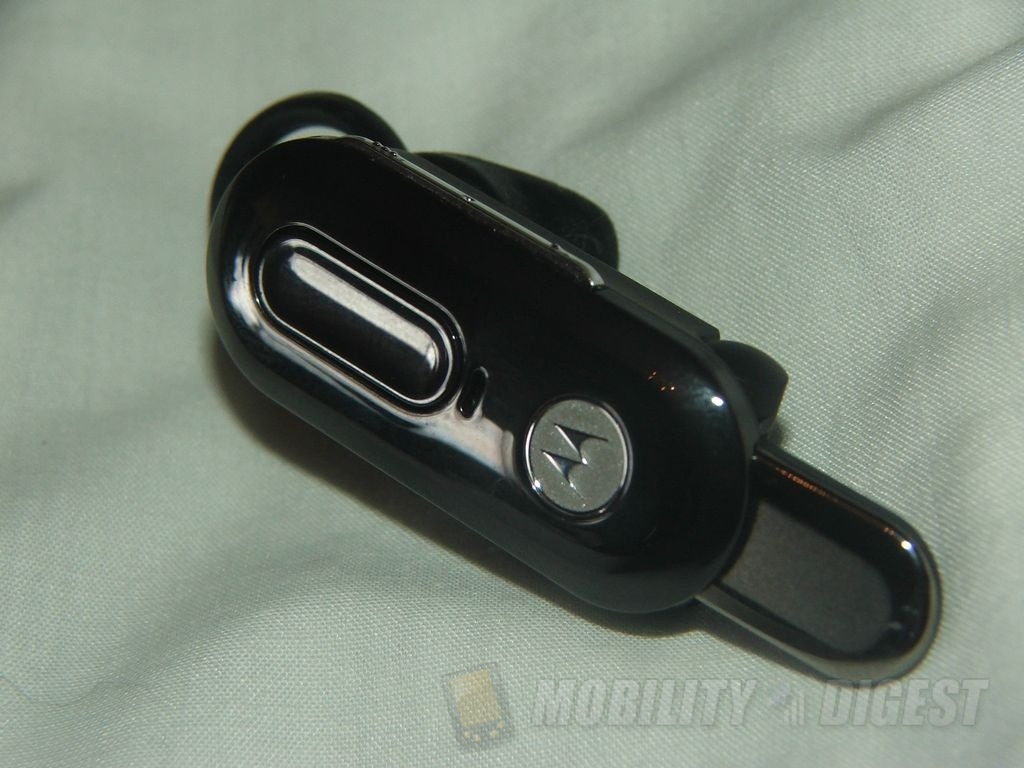 more than just a headset. This specific headset features MotoSpeak or the ability for you to listen to text messages and emails sent to you in the headset. While you're driving or whatever you're doing, when you get a message it will be read to you right through the headset. It works with either Android or Blackberry phones, and since I don't have a BlackBerry I'm using my Android phone, specifically the Motorola Cliq XT. The software is very configurable with many options, but the downside is that to get full functionality you'll need to get the full version which will cost you $13.95. I found the 'lite' version to be more than adequate though for my uses. Anyway, read on to learn more about the H17txt and MotoSpeak…
Author: Kristofer Brozio
Vendor: Motorola
Price: $99.99  (from Motorola at time of review)
Audio:
* CRYSTALTALK TECHNOLOGY
* 2-MIC
* AUTOMATIC VOLUME ADJUSTMENT
Power:
* STANDBY TIME: Up to 7 days
* TALK TIME: Up to 5 hours
Bluetooth:
* PROFILES: A2DP 1.2, Headset (HSP), Hands Free (HFP)
* BLUETOOTH RANGE: Class 2
* BLUETOOTH VERSION: 2.1 with Enhanced Data Rate
* ENHANCED DATA RATE (EDR)
* WIRELESS BLUETOOTH RANGE: up to 33 feet
Connectivity:
* MOTOSPEAK APPLICATION: a smartphone application that reads text messages (SMS) and emails into the headset, in real time.
* MULTIPLE-HANDSET ENABLED
* RAPIDCONNECT
* EASYPAIR
* MULTIPOINT
* ON/OFF SWITCH
* UNIVERSAL
Physical:
* TRUECOMFORT: Lightweight, on-ear style
* DIMENSIONS: (L) 1.65 x (W) 0.67 x (H) 0.39 in.
* FORM FACTOR: Flip
* REVERSIBLE EAR HOOKS
* WEIGHT: 0.317 oz
Overall Rating: 4/5
What's in the Box?
How about we start with the video unboxing:
Well if you watched the video then you saw everything, but if you didn't here's some still pictures for you to browse:
I don't like ear loops at all, I just find them uncomfortable really, luckily they included the in-ear style which I happen to like very much. I did try the ear loops though and  at least to me, they are very uncomfortable, more so than others.
There's two buttons, one on the side and one on the front. The front is the call button while the side is for volume, in the middle of the side button is also an LED indicator.
To turn it one and off you just flip the front piece down or up:
The headset is lightweight really, but it feels well made. The flip down part is spring loaded so it clicks into place and stays open or closed securely.
Impressions / Review:
Here's the Motorola BT Headset with a few others for size comparison: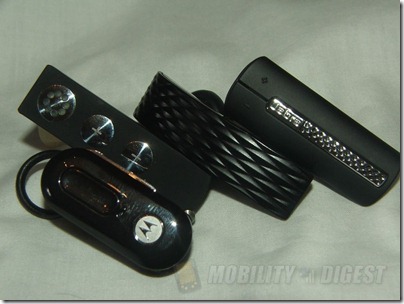 It's a rather small headset really, and I like that, but it's a bit fatter than the one I use currently which is the Jawbone2. When you open it up though it does get bigger of course making it the same length as the others really.
The main feature of the H17txt is the fact that it can be used with MotoSpeak, which is an application that you install on your phone. I used it with the Motorola Cliq Xt which is running Android so I went to the marketplace and downloaded the app.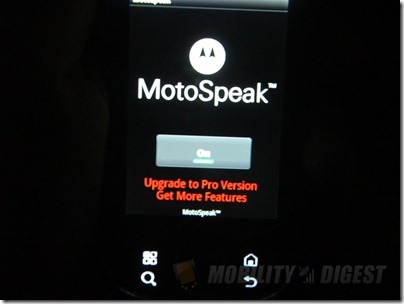 Pushing the menu button on the phone pops up the menu of course.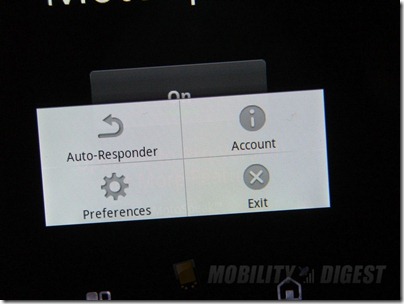 Under preferences you'll find quite a few things, but I learned that to get full functionality you'll need to upgrade to the pro version. The 'lite' version though works just fine really for listening to text messages.
The menu is rather long with a lot of scrolling down to do:
Here's three of the options expanded :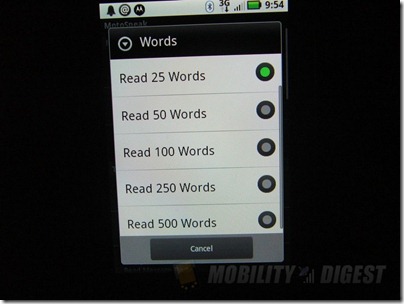 As you can see here you are limited to the voices in the free version. I have to say though that the free female voice is rather sexy…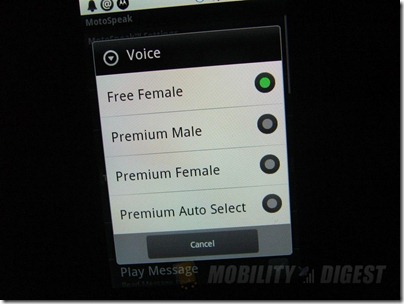 … and if you want to have a little fun you can slow down or speed up the voice!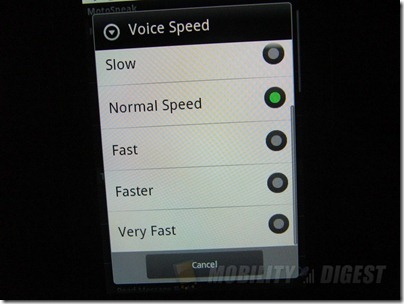 Using the MotoSpeak with the headset is a unique experience there's a beep and the voice comes on saying message from, and then the number and then she reads the message. I noticed though at low volumes the voice is kind of garbled, some things just aren't clear. If you raise the volume though it does get clearer. During calls though things are clear even at the lower volumes.The sound is decent really, the clarity is very good overall for calls. I had no complaints, but it doesn't do that good at blocking out exterior sounds so your callers will hear what's going in the background when you're talking to them. The volume can get very loud which is good, especially if your outside or driving with the windows down.
If you care the headset can even understand acronyms like LOL, and l8r and about 150 more.
The range is good as well, you can easily walk around and into another room before you lose the signal and things start to break up.
The headset is lightweight making it very comfortable for long periods of use, after a while you don't even really notice you're wearing it.
The price is $100, plus another $14 for the full version of the software making it one of the more expensive headsets out there today.
Conclusion:
The Motorola H17txt isn't a bad headset, but I think it's a bit overpriced really at $100. The MotoSpeak full version will cost you another $14 which brings the overall price up even more. It would be nice if they included full version of the software with purchase of the headset. The regular Motorola H17 headset is only about $45, so essentially the speaking ability more than doubles the cost of the headset. Is it worth it? I don't know, personally I can do without it. I've lived this long without it, but then again I'm a person who doesn't send many text messages, I personally don't care for them and I certainly don't text and drive and I try not to talk and drive as well. It all depends on your preferences and usage I would guess.
The H17txt is comfortable to wear for long periods and the call quality is decent enough, but for the price I would expect better.
Pros:
+Small and lightweight
+Easy to use
+Lots of features in software when you upgrade
Cons:
-Ear loops are not comfortable, at least for me
-To get full functionality you must upgrade the software
-Expensive overall
-Voice in MotoSpeak is a bit garbled at low volumes
About Author
(1) Reader Comment