So does an RC helicopter count as mobility? It's mobile right? One of my favorite toys, that even now at 41 years old, I still love to play with. I just love RC helicopters because you can do so much more with them than you can with an airplane or car or even boat for that matter. I've always had a fascination with RC helis. Swann has just announced the Bubble Bomber RC helicopter and it's not infrared, it uses 2.4ghz wireless so you know you'll always be in control, much better than IR helis, can't stand them personally, it's just the lag. Anywho.. the Bubble Bomber is an RC helicopter with a twist, it drops bubbles while flying through the air, and that just sounds awesome to me. My dogs wouldn't know what to do, they're afraid of RC helis, but they love bubbles, they'd be all confused by this thing. Price is $59.99 and it's available right now at Fry's.. (sadly I've got no Fry's near me..)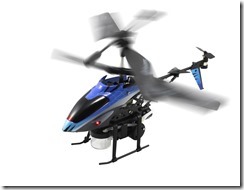 Swann Security, the global leader in security monitoring solutions, unveils the Bubble Bomber™ mini RC helicopter. Swann's new Bubble Bomber™ RC Helicopter provides a unique way to carry out missions of mischief and fun. Complete with the latest cutting-edge features of a modern remote controlled helicopter, the Bubble Bomber™ is designed with Swann's Easy-Fly Gyro technology making it easy for new users to quickly take to the skies. The Bubble Bomber™ is available at Fry's for $59.99.

The Bubble Bomber™ comes complete with bubble solution and an injector to squeeze the liquid into the helicopter's undercarriage. Once in the air, drop bubbles by pressing the Bubble Button on the 2.4GHz wireless remote control.

Operational from up to 1,000 feet away, the two joysticks and trim control on the video game-styled remote allow for six-way multi-directional maneuverability including up, down, forward, backward, left, and right. Turbo button adds an extra boost of speed for those high-intensity bubble-blasting missions.

The Bubble Bomber's™ lightweight and forgiving construction makes it perfect for indoor use. Swann also includes spare rotor blades and parts, as well as a landing pad for skills challenges against friends. The remote control is powered by six AA batteries (not included) and the rechargeable 3.7-volt Li-poly battery in the helicopter provides up to seven minutes of continuous flight time.

"We are excited by the new Bubble Bomber™ RC Helicopter. We presented a prototype at the CES trade show in January and the response was very positive. We think it's a great gift idea for the holiday season." says Jeremy Stewart, Vice President, Marketing of Swann.

For more information on Swann's Bubble Bomber RC Helicopter  visit www.swann.com.

Available

The Bubble Bomber™ is available at Fry's for $59.99.