Oohh… I know what I want for Christmas, or just any other time someone wants to buy me something. ThinkGeek has just announced the iCade 8-Bitty which is a retro style controller that works with both Android and iOS devices. At the moment I see 44 games that it will work with, but actually it's more than that because that list includes the Atari's Greatest Hits, Activision Anthology and Midway Arcade, so there's much more than 44 in reality. Price is $29.99 and I really want one now as I think this would be awesome with my tablet for gaming…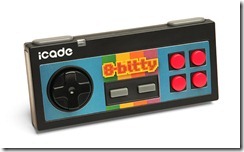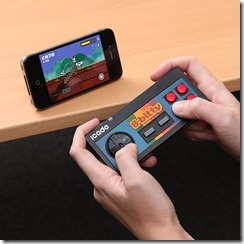 ThinkGeek is proud to announce theiCade 8-Bitty – Retro Wireless Game Controller as the newest handheld member of the popular iCade line of mobile gaming accessories.

The iCade 8-Bitty works via wireless Bluetooth® technology to connect with iOS and Android devices and gives users pocket portability and the power to enjoy the deep library of iCade games.

"Our original iCade gave serious retro gamers something to enjoy at home and now ThinkGeek wants users to be able to take the experience mobile," says Ty Liotta, End Boss of GeekLabs, ThinkGeek's Research and Development Lab. "Its retro styling is the perfect compliment to the classic games."

The iCade 8-Bitty features eight-button control with four face buttons, select, start, and two shoulder buttons along with an integrated D-pad for movement and control.

The controller is also designed on a completely open development platform. App developers can add support for the iCade 8-Bitty with no permission needed from Apple or ThinkGeek.

To learn what games can be enjoyed with the iCade 8-Bitty, visit http://www.thinkgeek.com/icadegames/or for more information about the iCade 8-Bitty, visit http://www.thinkgeek.com/product/ecea/.