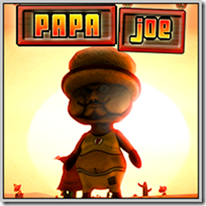 Papa Joe is a cute little game that has good reviews so far.  It can be found at the Marketplace here, and sells for $3.49.  It has a free trial option.
When the TV-network in a small desert village is overtaken by a bunch of mysterious antennas, an unlikely hero must rise. Who built the antennas? And why are they brainwashing the people with beauty shows? Take control of Papa Joe in this epic sneak'em up and prove that beauty is inside all of us.

Play in full 3D graphics!
Challenge 32 stages divided into four chapters!
Sneak past tons of enemies by using tricks!
Destroy the antennas!
Collect trophys on each stage!
glƏƏk! has received an update (I got mine this evening), to version 1.9.  My Timeline seems to be loading faster, and you can see other Outsiders' (the new name for …I'm A WP7!) Outsider profiles as well as their Gamertag profiles.  (I haven't seen mine because my husband uses Twit.  But I have looked at others' profiles, and that's kind of cool.)    glƏƏk! can be found in the Marketplace here, and sells for $1.99.  There is a free trial option.
Get the coolest, fastest Twitter client available for Windows Phone!

lƏƏk! is the not only the most fully featured Twitter client on the Marketplace, but is also the ONLY app that will bring you random tweets (pƏƏks) from users around the world!

What's New in v1.9
————
– Profile integration with Outsider for Windows Phone!
– Pin "Retweets of Me" for fast access
– Auto-tags in Tweet Compose
– More Extras, like "Who Not to Follow"
– More fixes/features!