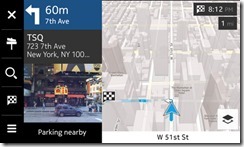 Today, Nokia announced HERE Auto, an in-dash navigation system and companion Windows Phone and Android apps.
With more computing technology going into cars, we're seeing a lot more in-dash programming, one of the more obvious to the consumer is navigation and maps. HERE Auto is the newest offering in this field. With an OS-independent API for manufacturers, HERE Auto will give you the expected turn-by-turn navigation, as well as re-routing information (I'm assuming for traffic issues) and location-based fuel prices. As you travel, you'll have the usual "helicopter" view that turns into a street-level view as you reach your destination (so I guess they're using Google's information for this).
According to Nokia, the online maps continually update incrementally, and of course you can download maps for offline use as well.
The companion apps can allow you to access all the sensors in your vehicle (again, I suppose the car manufacturer has to be in on this), including lock/unlock, fuel status, tire pressure, and air conditioning.