SPB TV For Blackberry Reviewed
|
SPB Mobile has been releasing solid applications for years.  The latest release, SPB TV, is another strong delivery that the company can be proud to add to their portfolio.  Developed to be a new breed of streaming television viewer, SPB TV allows Blackberry owners to view tons of channels with great quality, powerful audio and little buffering.  The channels come from all over the world, from international music stations to local small town public television broadcasts and stream via an easily-navigable system.
Here's the specs:
More than 100, subscription free, TV channels
A wide selection of public TV channels

Quick channel preview

Integrated TV guide

Quick channel selection

Channels from more than 17 countries
Integrated TV Guide with Outlook Integration
Today's full day guide

Current week guide

Current and upcoming TV shows

Outlook reminders
Full Screen TV Player with Picture-in-Picture Mode
Picture-in-picture mode

Fast channels launch and switching

Volume and backlight controls

Onscreen and hardware buttons controls

Network bandwidth fluctuations support
Watching TV on your phone has never been easier
Unique TV browser with quick channels preview for fast channel selection

Finger-friendly onscreen controls for one-handed navigation

Full support of hardware buttons controls
Clever integration of mobile TV functionality with other mobile phone features
I am reviewing this application based on an installation on a Blackberry Tour 93630.
The download and installation of SPB TV is easy enough.  The first thing the software does is check whether or not you are using the trial version.  The trial, while otherwise almost fully functional, gives you access to a limited number of television stations.  The full version gives you all the channels, Outlook functions and control over the channel listing.  When the program loads up, you're presented with the main menu.  The menu displays differently depending on the theme the rest of your phone uses.  Here is mine: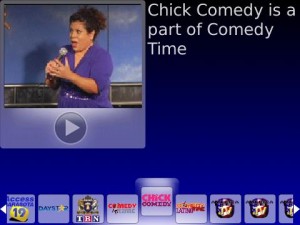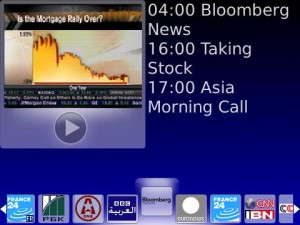 The software is designed for easy one-handed navigation.  The bottom row of icons is the list of available television programs.  They come in every shape and size, originating from over 17 countries and thus available in many languages.  (See a full list of channels here.)  Highlighting one brings up a thumbnail of the active programming on that station, as well as station identification information including the channel name, program name and current programming schedule.  Clicking it will start playing the channel.
The channels automatically buffer in low quality mode (207kb), though all are also available in high-quality mode (348kb).  There is a noticeable difference between the two qualities without much noticeable difference in buffer/load time.  I suggest making the switch to high quality.  The 348kb setting is really nice.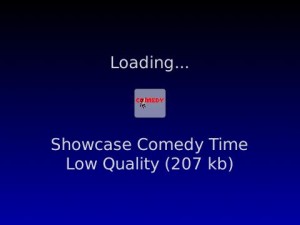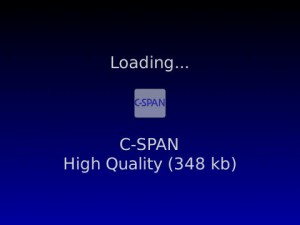 The audio quality of the programming is fantastic – loud, clear and easily controlled.  Of course there are settings that allow you to control the volume, as well as any other obvious TV-related options.
All of this runs very smoothly.  There is not a lot of lag with the software, despite the amount of streaming material that gets brought through it.  Navigating the channels on the main menu is very responsive, as is selecting one you want to play.  The software even comes with a great "channel surfing" feature – when watching a program, you can use your options menu to immediately go to the next or previous channel in the lineup, just as you would by pushing the channel up/down button on a normal TV remote.
However, my experience with this feature is that it doesn't quite live up to the operating speed that SPB says it will.  SPB claims the following:
After performing extensive usability research we identified several faults in existing market solutions, which prevent people from accessing mobile TV from their handsets. Perhaps, the biggest issue with mobile TV was the delay with opening channel, attributed to buffering. People are used to channel hopping when watching TV. It is not unusual to skip 5-20 different channels before a show of interest is found. However, this becomes impossible, when switching between channels takes 5-10 seconds. SPB Software has developed a special, patent pending TV technology that is optimized for the mobile TV experience.
In my experience, there is at least a 5-10 second delay when loading or switching channels using SBP TV, and often even more.  This is true regardless of whether I'm streaming in low quality or high quality – the speed is exactly the same.  I'm a patient person and don't particularly care if I have to wait 10 seconds to load each channel, but I have yet to get any channel to load in under that amount of time.
There are a lot of other great features.  Take the channel listing control, for example.  You can customize the order of all those television channels in the bottom row.  This allows you to stick your favorites together for easy channel surfing from one to the next, which is a handy function.  You can tuck the channels you don't care for at the end of the lineup and get them out of your way.
There is even a picture-in-picture mode.  Or, more literally, you can watch programming while you search for other programming.
Also, there is a slick TV Guide function that allows you to see a weekly programming schedule for each channel.  You can even set an Outlook reminder for something that you want to watch so that you don't miss out.  Really cool stuff.
All of the above interface features are easy to use and navigate.  Overall, this is a really awesome app that gives you access to programming you wouldn't otherwise see, with wonderful streaming quality video and sound.
It doesn't come without gripes, though.  In addition to the buffer times I experienced, I also found that a huge number of channels aren't in English.  On one hand, I see this as the nature of the product – connecting you to various international options – but on the other hand, I don't speak anything but English.  Thus, I wish there were a bit more programming in my language.
SPB might have thought of that, though, as they somewhat answer my gripe by offering a channel suggestion form on their website where users can request channels be added to the app.
Another awesome feature is that there is no subscription fee, which is a common thing with streaming video applications.  This app has a one-time fee that gives you the full version of the software and access to all its content and capabilities.
Overall, this is a very slick and well-made app that offers some interesting viewing choices and good functionality.  For anyone who has the desire to watch television on their Blackberry, particularly those who have an interesting in international programming they'd be harder-pressed to find elsewhere, this is a lovely choice.
While the speed of moving between channels could still use some improvement (at least in my experience), and some additional English language channels could be added, SPB TV leaves little else to be desired for mobile TV viewing.