Author:
Kristofer Brozio
Hello All, Happy Sunday! I'm back with another review for you, this one is from our friends at Love Cases and it's a camera case from Case Logic and it has no special name just DCB-302. I recently got a new camera the Fuji Finepix Z900EXR and it's what I would consider sort of expensive, coming in at around $300. For that price I need a case for it surely, and for that price Fuji should have included a case. The need for a case on this camera is essential I think as it has a 3.5" LCD but it's a touchscreen so I think it really needs protection with a case and probably a screen protector as well. I also picked up extra batteries for it, so the case I need should have some sort of pocket and the Case Logic DCB-302 should work nicely. So read on…
Author: Kristofer Brozio
Vendor:  Love Cases
Price: £11.99 / $19.04
Overall Rating: 5/5
Specs/Features:
Case Logic Compact Camera Case With Storage DCB-302
Quality materials
This case has been manufactured from the high quality materials to ensure your camera is well protected. The 25 year warranty shows how confident Case Logic are in this case.
Logical organization system
The logical organization system ensures your equipment is stored safely inside, yet instantly accessible.
Zippered storage pocket
The zippered storage pocket holds memory cards and other small accessories.
Removable shoulder strap
This case comes complete with a removable and adjustable shoulder strap for hands free carrying.
Belt loop
The belt loop on the back of the case allows you to easily and securely attach the case to a belt or bag.
Compatibility
Size: 12.4 x 7.1 x 7.9 cm
Fits Devices: 10.2 x 2.8 x 6.4 cm
If you're looking for a Lumix tz30 case or a Samsung camera case or any other case, then be sure to check out Love Cases!
The Review
There is no box for this case, just a hang tag which the case is stuck to.
The case is primarily black with red accents and it's made from a polyester and nylon blend making it durable and flexible. There are two zippers on it, one for the small pocket on top and one for the main compartment. The zipper pulls are nice and large for easy access to the pockets.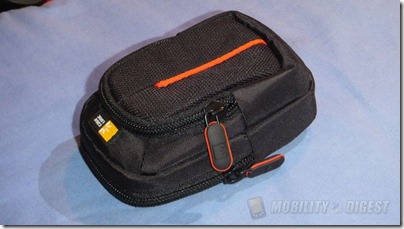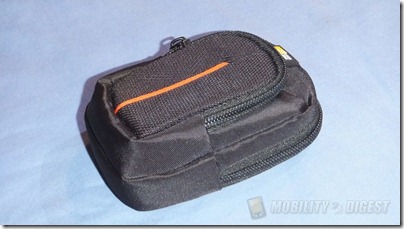 On the back you'll find a strap so you can put it on your belt if you want to. There are two small hooks on the back as well, these are for the strap that you'll see shortly.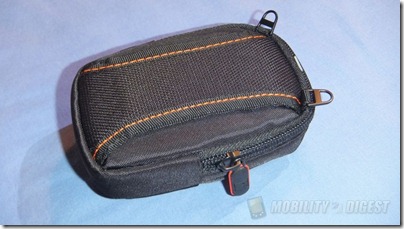 The small pocket on top is lined with a soft material, and it's actually two pockets, one larger and one smaller for things like memory cards.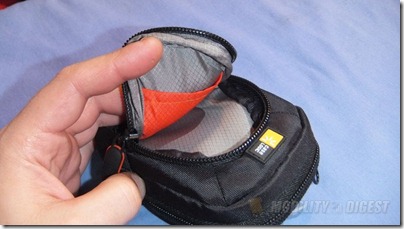 The main compartment is padded and lined with a soft material which is made from 100% polyester. It shouldn't scratch the screen on your camera and the padding will offer protection of course.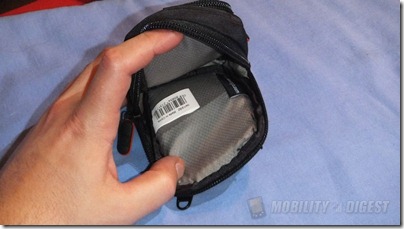 When I opened up the main compartment I found the shoulder strap, it's nylon and durable with two hooks on the ends. It is adjustable so you can size it for your needs.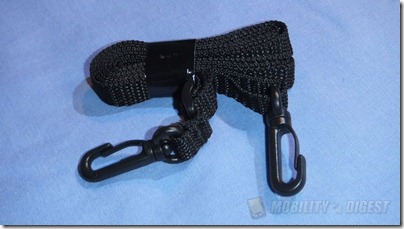 The strap attaches to the small clips on the case I showed you earlier.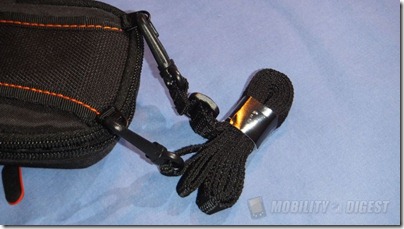 Here's my camera with the case.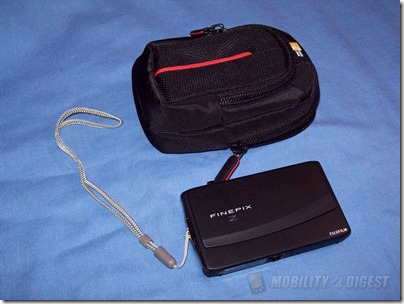 My camera fits perfectly fine inside of it, not to tight, just right so it won't slide around. There is a little bit of extra material inside of the case on the inside of the zipper so the zipper won't touch your camera and possibly damage it.
The smaller pocket on top is more than large enough for me to carry my two spare batteries and a spare SD card in the smaller pocket. Everything I need for a day or even weekend of shooting. The pocket should be able to accommodate larger batteries like AA  or other camera specific ones.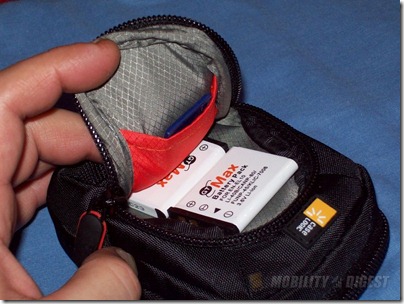 Conclusion:
The Case Logic DCB-302 is a decent camera case I think, it can hold extra batteries and memory cards so you can take everything you need with you right in one case along with your camera.
The case is padded and made of a soft material so it will protect your camera and its screen from any damage.
The DCB-302 has a belt loop or shoulder strap so you have options on how you can carry it.
I think it's a great case overall, it offers protection and room for accessories, it fits my needs perfectly.
The price is under $20 and for that it's worth it.
Pros:
+Soft padded main compartment
+Second smaller pocket for batteries and memory cards
+Includes shoulder strap
+Nicely made case overall
Cons:
-None really
About Author
(0) Readers Comments