Wow, anyone remember the NeoGeo? If you do then you'd remember Blazing Star and now you can get it on your iOS or Android device. It's a port of the game and I'd have to say I'm not exactly impressed with the graphics in the screenshots but I guess it's more for reminiscing than anything?! Price is $2.99 on either Android or iOS so take your pick and enjoy some retro gaming…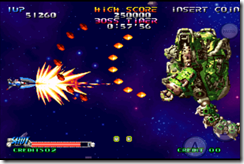 BLAZING STAR, a NEOGEO fan favorite, and innovative shooting classic with gorgeous graphics lands on iOS and Android devices! Jump into the cockpit of one of several unique spaceships and blaze a trail across space and deep into alien territory. Use your ship's "RAPID SHOT" attack to increase your ship's rate of fire by mashing the Shot button, or hold it down and unleash the "CHARGED SHOT BREAK", a unique special attack for every ship that is almost guaranteed to decimate your enemies. In addition to a wide range of in-game items and power ups to further customize your play style, a scaling score system rewards those with lightning-fast reflexes and impeccable timing! BLAZING STAR is the shoot 'em up that will keep you coming back for more.

◆ More than a perfect port of the original NEOGEO game!

In addition to its classic "ARCADE MODE", this perfect conversion of BLAZING STARfeatures a "MISSION MODE", allowing you to select the stage you want to play!

You can now perfect runthroughs of your favorite stages or practice those which give you a hard time!

◆ Pilot several different spaceships, all with unique characteristics!

Pilot six different spaceships in BLAZING STAR, all with unique attributes and special "CHARGED SHOT BREAK" attacks!

◆ Intense cooperative gameplay via the Bluetooth function! 

Aside from the "MAIN MISSION" game mode, BLAZING STAR can also be enjoyed by playing in "MULTIPLAYER" via the Bluetooth function as well! Team up with friends and try to 1CC the game together!

◆ Compatible with Network Ranking functions!

Use the network function of your device and compete for the best scores with players from all over the world! Become a BLAZING STAR ace pilot and obtain the coveted "World's Number 1" title!

For more information on BLAZING STAR, please visit www.mobile.snkplaymoreusa.com/blazingstar.