While we were with you, we had fun. We stayed with you for a longtime by not moving to other banks. We have our CDs, Checking Accounts, Savings Accounts, locker and Mortgage. We are one of the premium members. Even though you charged us $35 for no reason occasionally, we opted to stay with you for convenience. We opted in even though you sold our mortgage without informing us in advance to some other bank and thus taking away our flexibility to just simply pay the mortgage amount on the "day". That made us little stressed for some time, but we did well. Now since you cancelled Windows phone including the browser based mobile banking, why shouldn't I cancel all my accounts there with you? That's what I am just doing. So long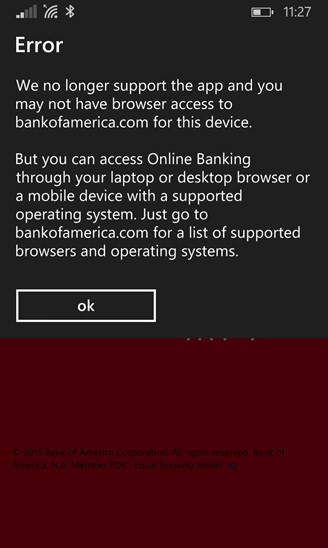 sucker. Your dunderhead move made us to realize there are better options in the world when it comes to banking, which are way better than your expensive BoA services and charges. Thanks for that
though.
If you hadn't cancelled the Windows Phone platform altogether, we would never have gone out to look for other banking options and realized that there is world outside of BoA and that is far better than your lousy banking system.    

Update: This is just not limited to Windows Phone, the app is also not available for Windows 8.x/RT at all. You get this screen.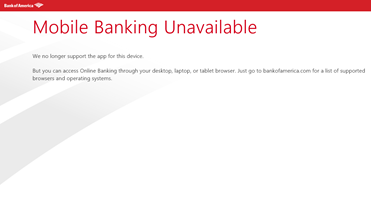 I don't think Bank of America ever wants to support Microsoft users at all. I see this as if they are making a threat to Microsoft saying that if they stop supporting Windows, people would flock away from Microsoft products. If it is really their intention, then probably their leadership got the kickbacks from competitors. I can think anything right, because they've not told us why stopped supporting? Bank of America, how are Google and Apple $ tasting? Are they better than Microsoft's? Or are you just ran out of IT budget to support?

Update 2: When I tweeted them this I got the response back suggesting to use alternate device. What a lousy suggestion? Why should I use a platform that "I don't use" to operate "my account?" Are they going to buy me a new device? It sounds like that.